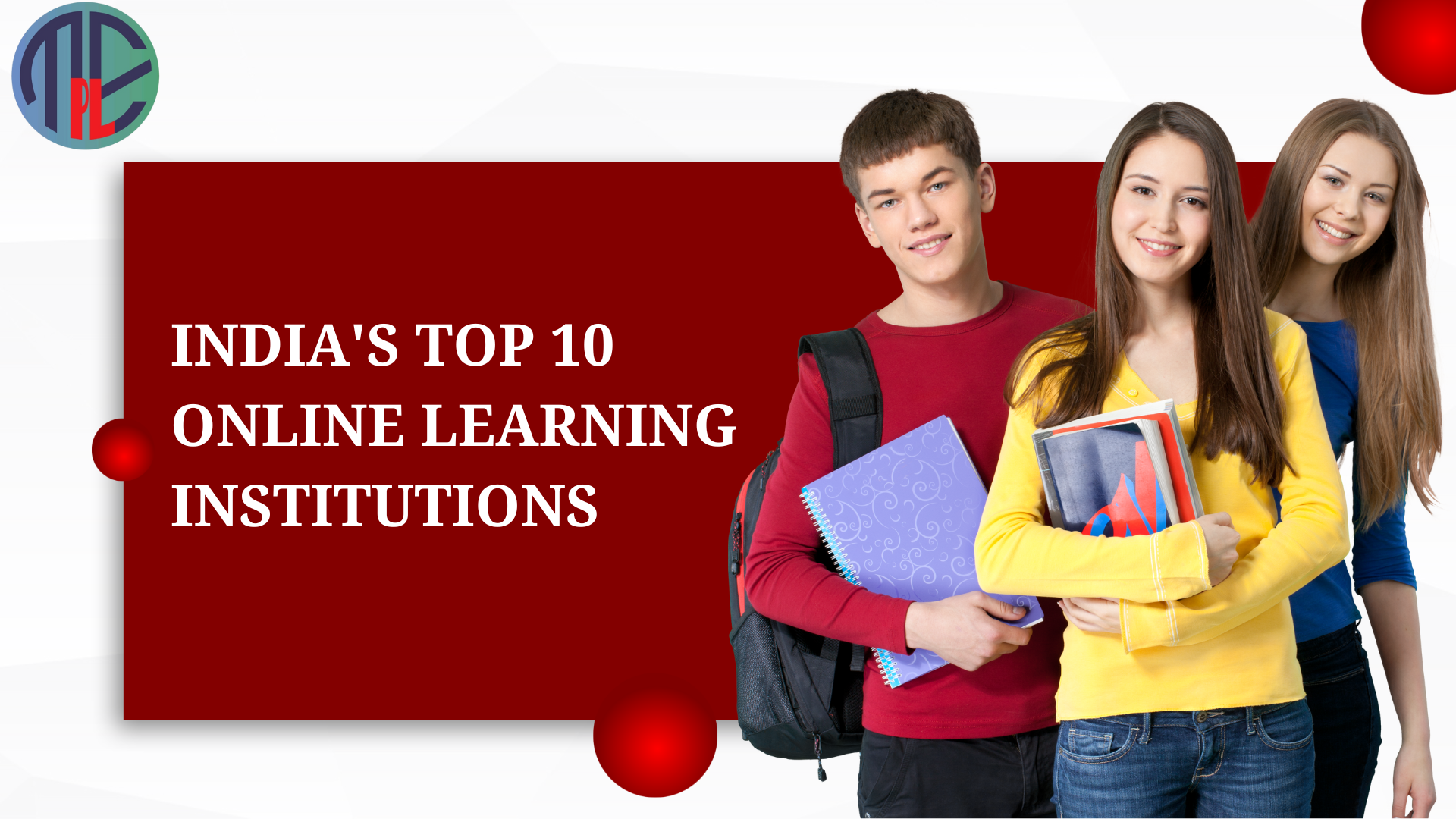 India's Top 10 Online Learning Institutions
The online learning programmes and certifications offered by Indian colleges have received a tonne of support from students. Universities that offer online degrees have removed geographical and financial barriers to quality education. A key element of this revolution is the growth of employment.
Knowledgeable trainers and teachers will widen their perspectives through online education. The students profit because more people may now access high-quality education because Indian colleges now offer online courses. They will also get the best education from qualified professors and lecturers with these top online degree programmes.
India's top online institutions allow working professionals to advance their skills while continuing to work. They are able to keep up with new trends and scientific advancements because of this. Furthermore, certificate programmes offered by Indian colleges save both time and money for any field. Online learning is offered by numerous Indian colleges, including IGNOU. Learn more about the finest Indian institutions that offer online degree programmes by reading on.
India's Top 10 Online Learning Institutions
The following is a list of the courses that are covered in more detail in this blog article on the Top 10 Online Courses in India from the Best E-Learning Institute. Let's begin online education by looking at some of the top programmes now being offered in India.
Executive MBA Programs
Some universities offer an executive MBA programme for a duration of 15 to 18 months. An executive MBA (EMBA) is a one-year postgraduate study in business administration. The EMBA is created for working professionals since it focuses more on the practical aspects of business and less on theory. Professionals with four to five years of experience in their area are best suited for the executive MBA because it will allow them to advance their careers.
Any undergraduate degree in any discipline, together with a minimum cumulative GPA of 55%, and at least five to 10 years of professional experience are requirements for applicants to the Executive MBA programme.
Admission odds are higher for those who have a clear goal and reason for earning an executive MBA. Students who want to enrol in Executive MBA programmes must pass entrance tests like the GMAT, CAT, and XAT.
2. Online BBA Programs
Six semesters and three years are required to finish the online BBA programme. The programme leading to a job in business and corporate settings is the Bachelor of Business Administration, or BBA. A BBA online or online education programme may be of interest to students who have completed their 10+2 and come from any background and want to have a prominent career as managers and business leaders. An online BBA is the choice of students who are eager to further their education but are unable to enrol in a conventional college.
Qualifications: 10+2 in any field from a reputable board.

With an entry-level pay range of $50,000 to $2,000,000.
3. B.com courses online
Online learning is available for a 3-year bachelor's degree in business administration. It all comes down to numbers in the end, so we need recent business graduates to keep track of the figures. There are six semesters during those three years of education when we cover a range of subject-related material. Many companies are looking for enthusiastic fresh graduates. The B.Com degree offers a wealth of knowledge about fundamental business concepts together with a comprehensive comprehension of finance and accounting. Candidates who completed their 10+2 in the commerce stream have the option of pursuing a B.com degree.
Qualifications: Graduate of a recognised 10+2 school.

with an entry-level pay range of 35k to 60k.
4. M.com. online courses
Online Students can pursue a postgraduate degree called the M.Com, or Masters of Commerce, in two years after receiving a business bachelor's degree. If you are interested in financial studies and want to learn about the financial transactions necessary to manage a corporation, the M.Com programme is an excellent choice.
B.Com. degree from an approved university is required.

With a 35k starting wage and a 60k maximum.
5. BA online programmes
A three-year bachelor's degree in business administration earned online provides students with the knowledge of their daily experiences and how those affect their way of life. They are greatly influenced by key factors such as language, geography, and even etiquette in his immediate surroundings. Online BA is a degree that is perceived as an artistic endeavour, but upon closer inspection, BA is the science of living. Students who are passionate about continuing their education but are unable to attend a traditional college opt for an online BA.
Qualifications: 10+2 diploma from accredited university.

With a starting pay range of $5,000 to $50,000.
6. Online MA in English courses
After receiving a Bachelor of Arts, students can pursue a Masters of Arts, or MA, in two years. Students pursuing an MA have the choice of attending regular classes, online courses, or distance learning.
Eligibility: A degree in any stream from an approved university

30k as the starting salary and 60k as the highest.
Online B.Ed. programmes
The online Bachelors of Education, also known as the online B Ed, is a two-year full-time degree programme required of candidates interested in a profession in a field related to teaching. Students in the online B Ed programme receive professional training in a range of fields from the perspective of teaching. It is a learning process that lasts for two years and four semesters.
Online M.Sc. programmes
This is the post-graduation science course. This course lays the groundwork for those students who want to seek the highest degree in this field. The two most favoured distant learning options are math and the MSc in chemistry. But during the past few years, M.SC IT admissions have dramatically increased. Candidates must hold a B.Sc. in the required field from a recognised university
Starting at $6,500 and increasing to $35,000
9. B.S. courses online
Science-minded students have choose to enrol in this course. The B.Sc. in Physics, Chemistry, and Math and the B.Sc. in Chemistry, Botany, and Zoology are the two most popular distance learning programmes. This three-year degree can be finished in as short as six years by the students.
To qualify, students must have completed a 10+2 Science curriculum through an approved board. anything from 6k to 25k.
10. Online Certificate in Journalism and Mass Media
The only time this course has been on our list is over the last five years. As more young people leave engineering, the acceptance rates for this course are significantly rising. The course's main objective is to help students improve their job-related abilities. The rise of the internet platform has surely improved the employability of the Diploma in Journalism and Mass Communication.