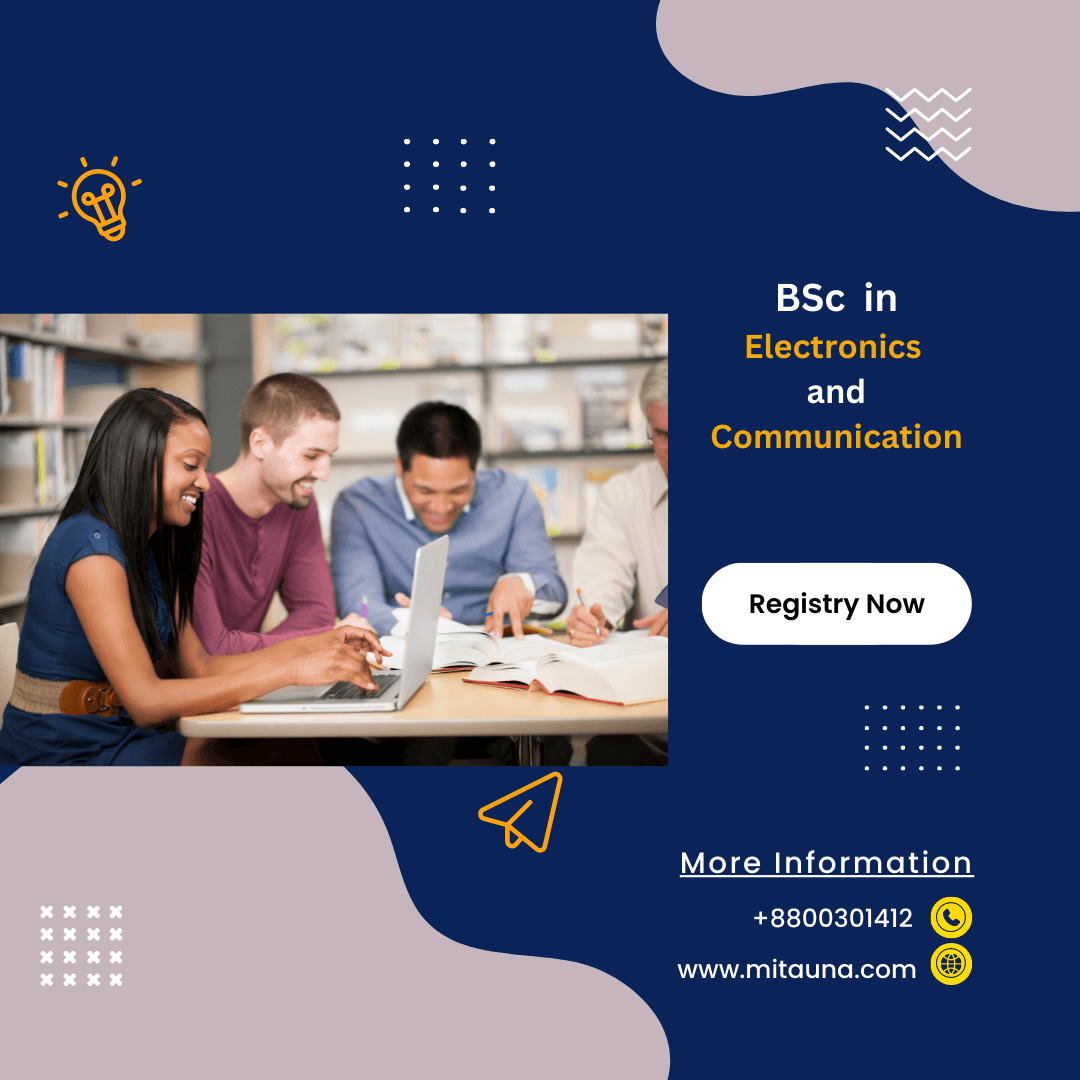 A three-year Undergraduate degree called Distance BSc Electronics & Communication works with low-power electronics like microprocessors and fibred optics. The design and analysis of electronic systems, communications systems, navigational aids, and other systems are its main areas of concentration. Both merit and entrance are factors in the admissions process. Graduates can find employment as project managers, site maintenance technicians, and so forth. The pay ranges from INR 3 to 25 LPA on average.""
Free Career Counseling
Browse best universities in distance education & Compare them
Academic support
Combine your distance university syllabus with skill-based courses
Adaptive Driving
Easy to understand, high-quality education taught by Industry experts
Course Overview
Electronics and communication with a BSc. Admission to Distance Education
At Mitauna, admission to the BSc Electronics & Communication program is open. Students are often chosen based on their merit at the 10+2 level. Electronics and Communication Bachelor of Science, or BSc In the DDE course, students learn the fundamentals of electrical circuits, including transistors, vacuum tubes, integrated circuits, and diodes.

Eligibility Requirements for BSc Electronics & Communication Online Education
The following list includes the requirements for admission.
A student must possess a diploma from any Indian board that is recognised as having completed the 12th grade.
They should earn 45% to 50% in the 12th grade.
Math, Physics, and Chemistry must be key subjects.
There will be a 5% mark reduction for students in the reserved category.
BSc Electronics & Communication Distance Education's main characteristics
The three-year BSc Electronics & Communication program is divided into six semesters.
The controlled passage of electrons across various mediums and the vacuum are the subject of this branch of research and technology.
The minimum need for entrance to the program is a 10+2 diploma in a science stream with math, physics, and chemistry as required core topics.

Distance Education BSc Electronics & Communication Syllabus
| | |
| --- | --- |
| Electricity and Basic Electronics | Communication electronics |
| Physics of materials | Data processing and personal computers |
| Numerical methods | Microprocessor-II |
| Amplifiers and Oscillators | Television and engineering |
| Basic physics-1 | Optoelectronics |
| Semiconductor devices and integrated circuits | Some application-oriented subjects are: |
| Programming in 'C' | Medical electronics |
| Digital Electronics | Industrial electronics |
| Basic Physics-II | Power electronics |
| Microprocessor-I | Computer networks |
| Antennas and wave propagation | Electrical and electronic instrumentation |
Distance Education Employment Fields for BSc Electronics & Communication
IT Companies

Self-run Electronic Shops

Colleges & Universities

Electricity Boards

Banks (technical area)
Job Types for BSc Electronics & Communication Distance Learners
| | |
| --- | --- |
| Broadcast and Sound Technician | Radio Journalist |
| Communication Operator | Teacher/Tutor |
| Television Production Manager | Electrical/Electronic Executive |
| Audiovisual Production Specialist | Communication System Operator |
"
"