First 20 students get 50% discount.
Hurry up!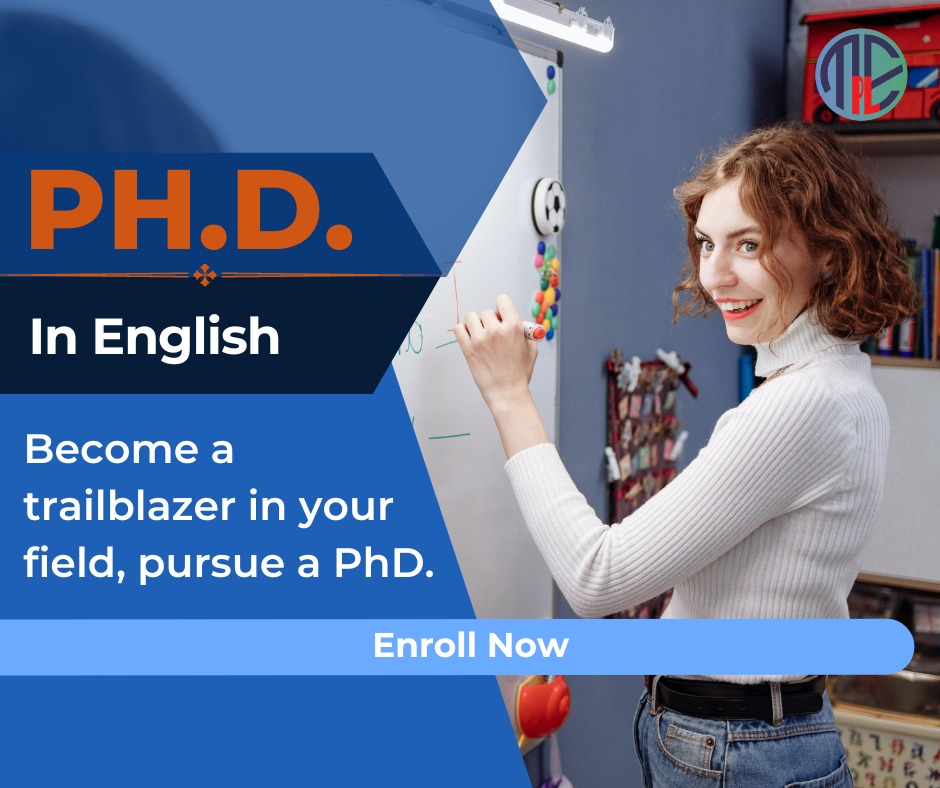 A Ph.D. program in English provides students with the opportunity to delve deeply into the study of the language. They can choose to specialize in specific dialects such as British or American, as well as explore various areas like literature, history, media, performance, or technology. While literature's evolution and its influence on English-speaking cultures over time often form the core focus of many programs, students are typically required to undertake an extensive research or study project and present a dissertation to successfully complete the program. Program durations can vary since they depend on the student's own direction and the extent of their research endeavors. The Ph.D. program in English typically spans three to six years and encompasses a broad range of subjects such as translations, world literature, ancient literature, and technical writing, covering various forms of literary expression like prose, poetry, drama, and fiction. Graduates of this program have a multitude of job opportunities both in India and abroad, particularly in fields related to arts, sociology, humanities, and psychology. Some initial career paths that Ph.D. graduates can pursue include positions as Lecturers, Professors, School Teachers, Private Tutors, Education Consultants, Vice Principals, Program Managers, English Teachers, Language Trainers, Proofreaders, and Customer Support Associates."""
Free Career Counseling
Browse best universities in distance education & Compare them
Academic support
Combine your distance university syllabus with skill-based courses
Adaptive Driving
Easy to understand, high-quality education taught by Industry experts
Course Overview
Here's a complete overview of a Ph.D. in English, point by point:
1. Program Duration:
A Ph.D. in English typically takes around four to six years to complete, although the exact duration may vary depending on the institution and the student's progress.
2. Specializations:
Students have the opportunity to specialize in specific areas within the field of English, such as British literature, American literature, postcolonial studies, gender studies, comparative literature, or specific literary periods or genres.
3. Coursework:
The program includes a combination of coursework and independent research.
Coursework covers topics such as literary theory, critical analysis, research methods, and specialized areas of study within English literature.
4. Comprehensive Exams:
Students are required to pass comprehensive exams to demonstrate their mastery of the field.
These exams typically cover broad areas of English literature and may include written and oral components.
5. Research Project:
A significant portion of the program is dedicated to independent research.
Students work closely with their advisors to develop a research project or thesis that contributes new insights to their chosen area of specialization.
6. Dissertation:
The culmination of the Ph.D. program is the completion of a dissertation.
This is a substantial research document that showcases the student's original research and analysis.
It is typically presented and defended before a committee of faculty members.
7. Teaching Opportunities:
Many Ph.D. students in English have the opportunity to gain teaching experience by serving as teaching assistants or instructors for undergraduate courses.
This provides valuable experience in pedagogy and helps prepare students for future academic positions.
8. Academic Conferences and Publications:
Ph.D. students are encouraged to present their research at academic conferences and publish their work in scholarly journals.
This helps to establish their credibility as scholars and contributes to the broader academic discourse in their field.
9. Job Prospects:
Graduates of a Ph.D. program in English have diverse career opportunities.
They can pursue academic positions as professors or lecturers at universities and colleges.
Additionally, they can work in research institutions, publishing houses, cultural organizations, or pursue careers in writing, editing, journalism, or other related fields.
10. Academic Community:
Ph.D. students often become part of a vibrant academic community, attending seminars, conferences, and engaging in intellectual discussions with faculty and fellow students.
This fosters a supportive and collaborative environment for learning and research.
It's important to note that specific program structures and requirements may vary between institutions.
It's advisable to research and consult individual university programs for more detailed information about their Ph.D. in English offerings.
"
"
"