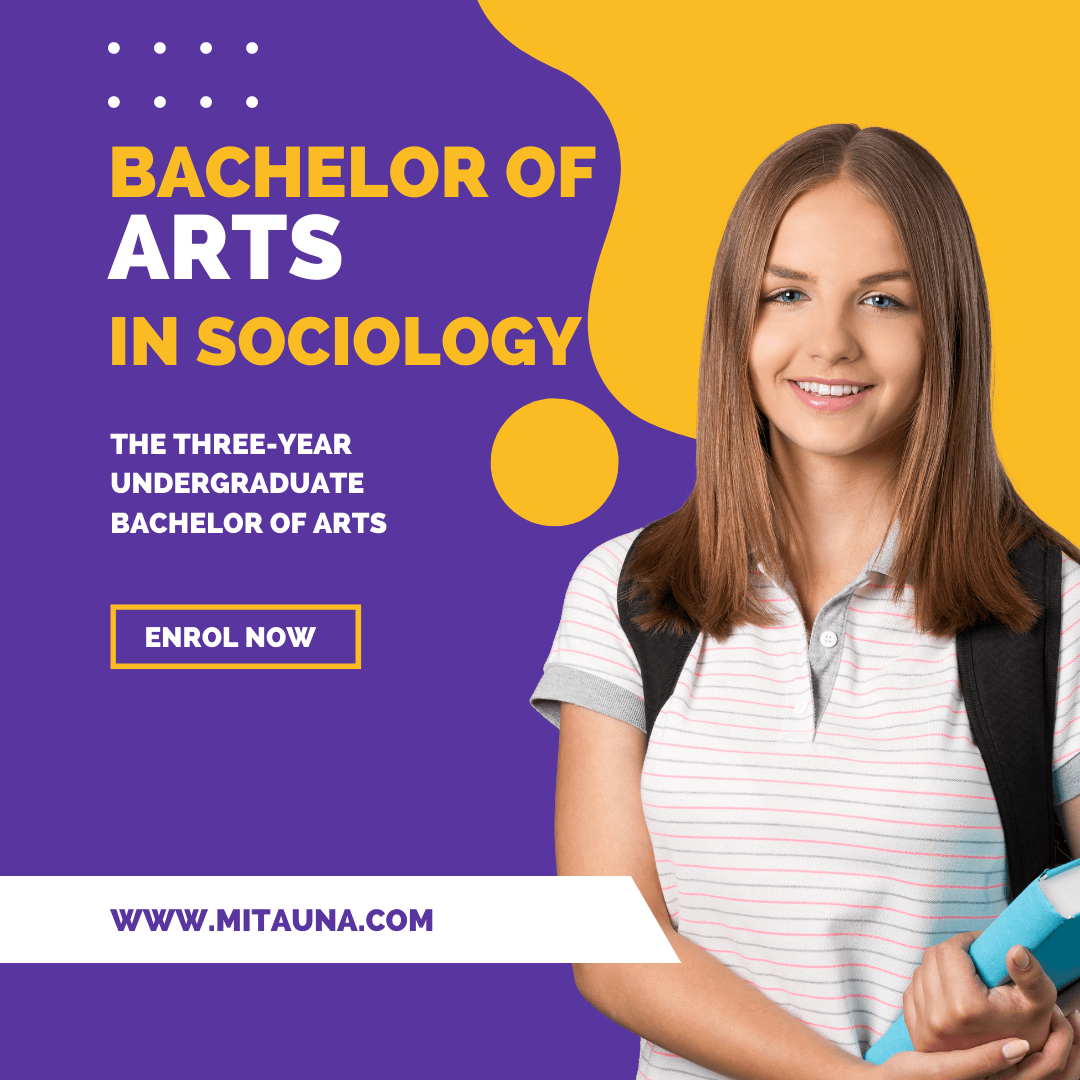 BA A degree in sociology is related to the arts. Although sociology is not a brand-new field, it does hold a significant and established place in the educational landscape. It examines social behavior's in a society that is designated as sociological. The main reason for starting this field was to educate the Candidates about social issues. It aids in the understanding of a person's mental states and interactions with their environment. After earning this degree, professionals in this field can find work in a variety of sectors. The most typical occupations for holders of a bachelor's degree in sociology are community service officers, social researchers, lecturers, and counselors."
Free Career Counseling
Browse best universities in distance education & Compare them
Academic support
Combine your distance university syllabus with skill-based courses
Adaptive Driving
Easy to understand, high-quality education taught by Industry experts
Course Overview
Admission to BA Sociology Distance Education in 2023
ODL Sociology BA Admission has begun for the July session. Several UGC-approved universities will still continue accepting applications for their undergraduate degree programmes in the arts and humanities stream through September 30, 2023. Acharya Nagarjuna University, Calicut University, Dibrugarh University, and other central, state, and private universities are among those that start the admissions process for the BA Sociology programme.
Candidates with a passing grade on the prior qualifying exam will be admitted to the sociology-focused degree programme. The BA in Sociology programme has an INR 300–700 registration fee. The cost of the training, however, ranges from INR 16,800 to INR 42,100.
Admission to the BA in Sociology at Acharya Nagarjuna University
Admission to the three-year BA Sociology programme at Acharya Nagarjuna University (ANU) begins in July. The university portal offers free access to admission forms. Send the relevant centre of admission the completed ANU application forms and required paperwork for verification. Academic merit will be taken into consideration for admission to the ANU BA Sociology degree programme.
The BA in Sociology undergraduate programme costs INR 10,545. Aspirants may pay their BA Sociology tuition in instalments rather than having to pay the entire amount at once.
Distance Learning in Sociology: Highlights
| | |
| --- | --- |
| Course Name | Bachelor of Arts in Sociology |
| Duration of course | 3 years |
| Eligibility | 10+2 |
| Admission Process | Online/Offline |
| Mode of study | Distance/Regular/Correspondence |
| Average Fee | INR 14,500- INR 76500 p.a. (Approx) |
| Average Salary | 3.8 LPA to 8.6 LPA |
| Colleges | MOP Vaishnav College for Women Chennai, Christ University Bangalore, Queen Mary's College -Chennai, Loyola College Chennai, St. Xavier's College Mumbai. |
| Top Recruiting Companies | Nudge Foundation, UNICEF, NGOs, UN, HelpAge India, Media Organizations, Rang De, Teach for India, Research Firms, and Universities. |
2023's newest distance learning institutions
| | |
| --- | --- |
| Saurashtra University Distance Education | Graphic ERA University Distance Education |
| ASBM University Distance Education | Vinayaka Missions Research Foundation University Distance Education |
| K L University Distance Education | MS University Distance Education |
| Pt Sundarlal Sharma University Distance Education | Lovely Professional University Distance Education |
| Gandhigram Rural Institute Distance Education | Tamil University Distance Education |
| Distance Education | Get Eligibility |
IGNOU Distance Learning in Sociology
For distant learning programmes in BA Sociology, IGNOU is a well-known institution in Delhi. Students who have interrupted their education to engage in other activities or who are unable to continue studying due to a variety of circumstances. For them, IGNOU is a superior option for completing their distance learning coursework. For the July 2023 session, IGNOU is currently accepting applications for their distance learning BA Sociology programme.
Candidates who are interested in applying to this university's programme have until September 9, 2023, to do so.
Eligibility for BA Sociology Distance Education:
Candidates must meet the minimum requirements listed below in order to be admitted to the BA Sociology DE programme at any UGC-approved university or institution.
Candidates must successfully complete the 12th grade or an equivalent exam from an established and recognised board in India.
The minimum test scores needed for admission to the BA Sociology DE programme may vary from one university to the next.

Benefits of Distance Learning in Sociology
Students in the BA Sociology programme learn about a wide range of sociological topics in a number of fields, including psychology, history, social anthropology, marxism, interactions, etc. After earning a three-year sociology degree from a reputable college, candidates' knowledge and degree will enable them to move toward a promising career.
Gaining academic and professional excellence upon completion of the degree is automatic. The next two parts will each have a description of each.
Benefits of BA Sociology on the Job Learning:
Candidates who have earned a BA in Sociology can strive for excellence in learning by acquiring further education. Students have access to advanced level learning courses through the MA in Sociology and B.Ed. The cost of the aforementioned courses ranges from INR 14,200 to INR 62,100.
Benefits for BA Sociology ODL Graduates in the Workplace:
Graduates of the BA Sociology distance education programme are qualified to enter the workforce. Candidates may choose from any of the following employment sectors: News reporting, instruction, consulting, clinics, etc. Counselors, social researchers, welfare rights advisors, teachers, and other professionals with a BA in sociology are among the job profiles for these individuals. INR 4-5 LPA is the typical remuneration package for a BA sociology professional.
Admissions for distance education programmes in sociology
Students who wish to enrol in this course must submit an online application by logging into the university's website portal.
The university's website portal contains instructions for enrolling in a BA sociology course.
Student applicants need just fill out one form. Along with their main applications that satisfy the eligibility requirements, applicants seeking admissions under a special reservation must also submit the pertinent special reservation forms/certificates listed in Annexures I, II, III, IV, and V.
The online application number should be mentioned in all correspondence. Fill out the online application and send it, along with any necessary supporting documentation and your online payment information or demand draft, to the following address by speed/registered mail or in person.
Documents needed:
ID card for candidates.
University degree.
Distance Education Syllabus for a BA in Sociology
Module 1: Introducing Sociology
Module 2: Introducing India
Module 3: Classical Sociological Thinkers I
Module 4: Social Interaction and Social Relationships
Module 5: Classical Sociological Thinkers II
Module 6: Body, Culture and Cultural Contestations
Module 7: Social Institutions I
Module 8: Social Theory I
Module 9: Social Institutions II
Module 10: Social Theory II
Module 11: Research Method I
Module 12: Social Stratification
Module 13: Research Method II
Module 14: Social Challenges and Movements
Module 15: Change, Development, Globalization
Module 16: Dissertation
What is distance learning for a BA in Sociology?
Many colleges offer candidates a UG-level degree programme in BA sociology through distance learning. This degree programme is a science degree that focuses on sociology education. Candidates for this degree are taught how to live in and interact with society in this course. This programme offers candidates the opportunity to learn remotely. After obtaining this degree, the Candidates are hired by various businesses in exchange for a high monthly pay. Some businesses additionally provide candidates with a high income and additional benefits like housing, healthcare, and transportation.
Financial Degree
The costs associated with this style of learning are lower than those associated with physical learning.
Price Of Fuel
We don't need to travel to the university's campus to learn through distance learning. Fuel expenses that would have been incurred when travelling to the institution are avoided.
Application form for BA Sociology DDE:
Candidates may obtain an application form from the university's official website.
Candidates may complete the application form by include accurate information.
Sociology BA Colleges in India
Distance learning is available for the BA in Sociology at the Top Universities and Colleges. The following are the Top BA Sociology Colleges in India that students can check out:
Christ University in Bangalore, Fergusson College in Pune, Mount Carmel College in Bangalore, Loyola College in Chennai, and K J Somaiya College of Arts and Commerce in Mumbai
"