First 20 students get 50% discount.
Hurry up!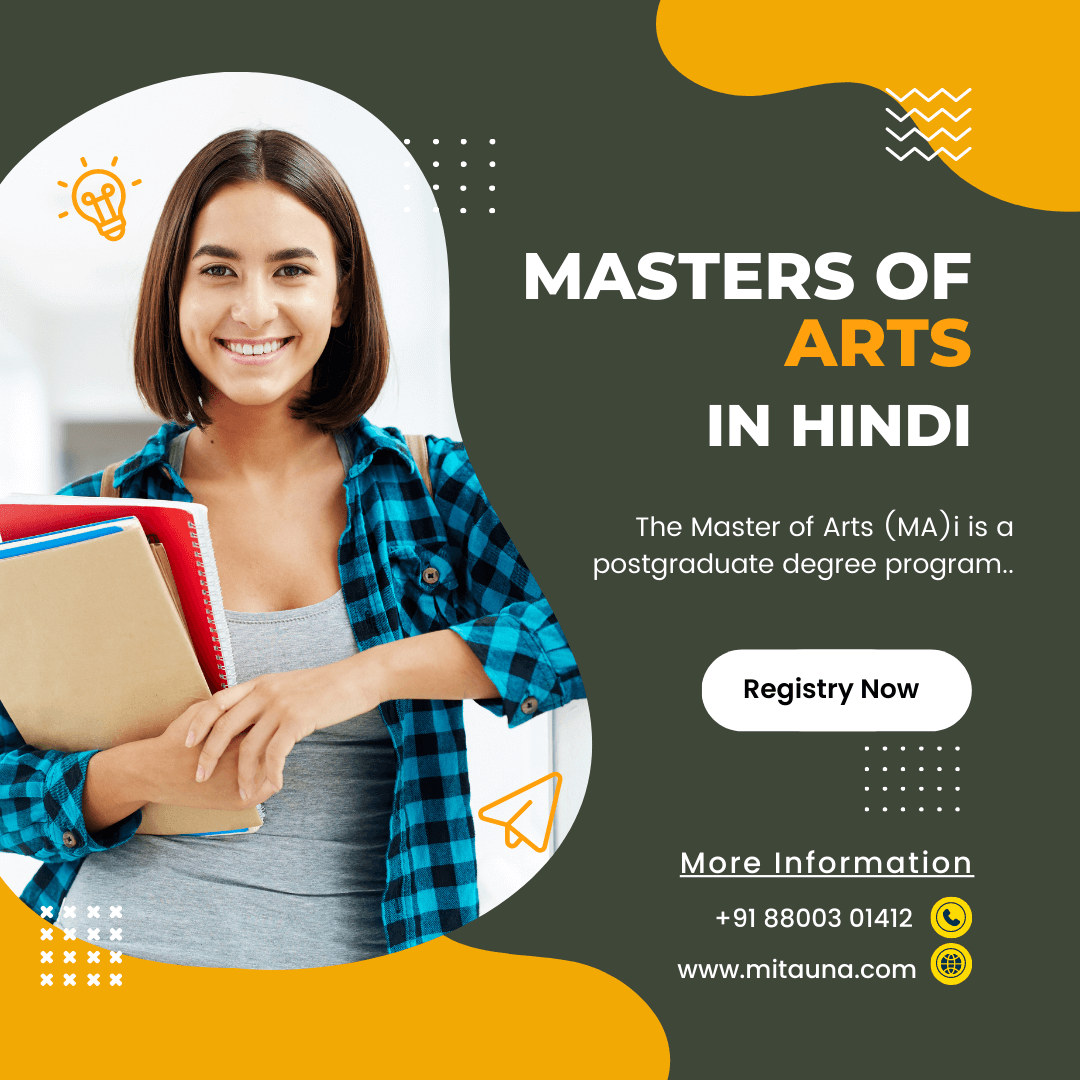 The Master of Arts (MA) in Hindi is a postgraduate degree program. This course focuses on Hindi literature, its language, history, and the stages of evolution in Hindi literature over time. There are numerous reasons why students choose to study in this program after graduation.""
Free Career Counseling
Browse best universities in distance education & Compare them
Academic support
Combine your distance university syllabus with skill-based courses
Adaptive Driving
Easy to understand, high-quality education taught by Industry experts
Course Overview
Overview
The Master of Arts (MA) in Hindi is a postgraduate degree program. This course focuses on Hindi literature, its language, history, and the stages of evolution in Hindi literature over time. There are numerous reasons why students choose to study in this program after graduation.
One of the most common reasons is the career that can be built after pursuing an MA Distance Education in Hindi, as there are numerous job roles available. The knowledge gained during this course is extensive, as students gain a thorough understanding of the Hindi language and its application. Individuals who complete this course can also become Hindi writers and poets, promoting Hindi literature through advanced means.

Eligibility: A BA Hindi degree is preferred for admission to the MA Hindi distance program; however, any other relevant degree may be acceptable. Some institutes may administer an entrance exam to determine merit.
Duration: All candidates must complete this MA Hindi distance degree program in at least two years.
Fee: MA Hindi distance education course fees range between 1-2 LPA.
Career-wise: Any student who has earned an MA in Hindi can pursue an M.Phil. or Ph.D. in Hindi. In fields such as journalism and private or public institutes, an annual salary of INR 3 to 20 lacs is possible.
Why pursue an MA in Hindi through distance education?
This course is best suited to students who are interested in learning Hindi literature and practising the Hindi language. It is also beneficial in terms of job creation in the area.

Because of the growing importance of Hindi literature and the use of this language in many businesses to assist customers, the MA Hindi course is now being taught remotely and online.

After earning an MA in Hindi, you can work in journalism, educational institutes (private or public), and so on. Such graduates have the potential to become well-known Hindi scholars and teachers.

Its scope is greater as evidenced by its employment areas, and the syllabus used to teach this course is also comparable to that of regular courses.

The course has received recognition from recognising institutes such as UGC and DEB.
Is Distance MA Hindi a Good Career Path?
Pursuing an MA in Hindi via distance learning is an excellent decision. With 425 million people worldwide speaking Hindi as a first language, it is one of the most spoken languages on the planet.
Another 120 million people speak Hindi as a second language, making it one of the most lucrative languages for career advancement. Candidates must pass their 10+2 exams with a minimum of 50% marks.
A bachelor's degree in a relevant field is required, with a minimum grade point average of 50%. The candidate's undergraduate degree should be from a reputable institution as well.
Admission to MA Hindi Distance Education 2023-24
MA Hindi Distance Education Admission Form is available online at Mitauna. Students with a BA in Hindi, BA in General, or any other graduation-level course from a UGC-approved university are eligible to apply. They must complete the application form and pay the application fee by the deadline. Students who receive their admission number must validate it using the credentials provided.
Eligibility Criteria for MA Hindi Distance Education
Students must meet the university's eligibility requirements before enrolling in any course. The same procedure will apply here as well. To be admitted to an MA in Hindi, students must follow the guidelines outlined below.
Qualification for a graduation degree in a related field of learning or, preferably, BA Hindi is a basic eligibility criterion for this course.

On a Merit basis, no aspirant's score should be lower than the required minimum of 50%.

Entrance examinations are not required for these admissions.
MA Hindi Distance Education Fees
The MA Hindi Distance Education admission fee is affordable for students of all income levels. To confirm their registration, students must pay the application form fee. Each year, the application form fee changes. They can inquire with the counsellors about the application form fee. New applicants must pay their fees using one of several online payment options.
MA Hindi distance education fees typically range between 1-2 LPA.
Application Form for MA Hindi Distance Education
The admission process for MA in Hindi at Mitauna EduTech has begun for the academic year 2022-23. Students are encouraged to complete the application form on the institute's official website. Students' information must be correct and in accordance with the certificates.
Admission Procedure for MA Hindi Distance Education
Students must exercise extreme caution while navigating the admissions process, as they frequently make minor errors. We have listed everything that students will need to do during the admissions process below.
The Mitauna Edutech website will be launched first, and students will register.

All information about previous academic studies will be provided.

The last exam's passing certificate will also be attached.

After you pay the required fee, registration will be completed.

Students can contact the Mitauna Edutech counsellor if they need help with their application.
MA Hindi Distance Learning Syllabus
The university teaches Hindi poetry, literature, and so on in this course.
Semesters I and II
Ancient and Medieval Literature History
Modern Period Literature History
Short Story and Novel
Drama and One-Act Plays in Prose II
Linguistics in General
Translation of Ancient and Medieval Hindi Poetry - Theory and Practice
The Hindi Language's Origin and Development, as well as its Structure
Semesters III and IV
Chayavad is a modern Hindi poem.
Hindi Poetry After Chayavad
Literature Theory - Indian and Western Current Trends in Indian Literature
Official Language Hindi and Functional Hindi/Sanskrit Feminist Writing in Hindi/Special Author, Mohan Rakesh/Minor Literary Forms in Hindi - Project Work/Dissertation - Viva-Voce Examination
MA Hindi Distance Education's Scope
MA in Hindi via distance learning is widely available in India. Students who take the course have a better chance of landing jobs in a variety of fields. MA Hindi jobs are available for both new graduates and experienced professionals. The degree can be used to pursue a career in primary education, secondary education, or copy editing.
Most MA Hindi graduates work as freelance English to Hindi translators, online Hindi translators, or even Hindi content writers. Content writers earn an annual salary of INR 2.9 lakhs on average.
MA Hindi Distance Learning Language Employment
Departments of Translation
Coaching Facilities
Universities and colleges
Houses of Publication
Departments of Tourism
Offices of the Central Government
Banks
"
"