First 20 students get 50% discount.
Hurry up!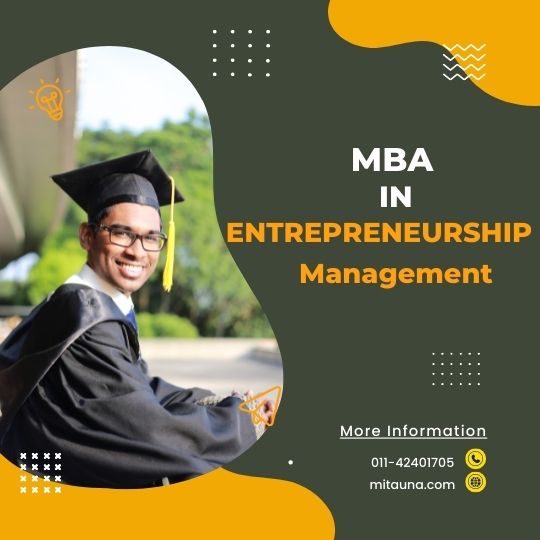 Admission to MBA Entrepreneurship Distance Education 2023: MBA Entrepreneurship is a postgraduate course in management that is provided via distance learning. This master's-level program lasts two years and is divided into four equal semesters. The main topics covered in this course include business marketing, entrepreneurship, accountancy, and firm administration. This course's goal is to give students who can't continue their education in the traditional manner the choice to finish it.""
Free Career Counseling
Browse best universities in distance education & Compare them
Academic support
Combine your distance university syllabus with skill-based courses
Adaptive Driving
Easy to understand, high-quality education taught by Industry experts
Course Overview
Admission 2022 MBA Entrepreneurship Distance Education
Universities across the country that are deemed and central offer a two-year professional programme in MBA Entrepreneurship Distance Education. A two-year MBA Entrepreneurship programme is offered by reputable universities including Koneru Lakshmaiah Education Foundation University, Padmashree Dr. D. Y. Patil Vidyapeeth, Mizoram University, etc.
Students are typically admitted to the MBA Entrepreneurship Distance Education programme after taking into account their prior academic achievements from accredited colleges or universities. However, some universities will evaluate applicants based on their placements in the entrance exam they administered themselves or that was held at the national level.
Management principles, managerial economics, corporate communication, strategic management, managing diversity, and other topics will be covered in class. Candidates can apply to the MBA Entrepreneurship graduate programme in the academic years of July and January.
Highlights of MBA Entrepreneurship Distance Education
| | |
| --- | --- |
| Duration | 2 Years |
| Eligibility | Graduation |
| Type | Online / Distance |
| Level | PG Course |
| Admission Process | Online / Offline |
| Fee Structure | Approx INR 48,910- INR 86,941 ( As per University) |
| Course Type | Autonomous |
| Approved By | UGC |
MBA Entrepreneurship Eligibility Distance Education
Candidates must hold a current certificate proving they passed BBA Entrepreneurship from an accredited university with at least a 50% grade point average in order to be admitted to the relevant programme.
Students with at least a bachelor's degree, regardless of whether they studied science, the arts, or business, are also eligible.
There is no minimum age requirement to enrol in this course.
Duration:
The MBA Entrepreneurship Distance Education programme lasts two years, which are broken up into four semesters.
Fees:
Candidates can see the INR 2,00,000 - INR 5,00,000 per year MBA Entrepreneurship Distance Education Average Fee range.
Suitability:
Anyone who is eager to start their own business or is already managing a family business is ideally suited for this entrepreneurship master's programme because they can use it to take their business to newer levels.
The people for whom this entrepreneurship programme is intended are those who have the will and intelligence to succeed as successful businesspeople from the outset and do not believe that jobs are created for them.
Through this entrepreneurial degree, anyone who has studied particular business courses in their bachelor's degree, such as finance, marketing, HR, etc., can benefit from improved business applications.
MBA Entrepreneurship Distance Education's Purpose
MBA Entrepreneurship Distance Education is one concentration that not only gives you the chance to start any type of business you choose, but also gives you the ability to create a market for a good or service that doesn't already exist.
India and the rest of the world struggled after the 2008 global financial crisis to provide work for the expanding population. As a result of the urgent necessity to create work possibilities at all levels, entrepreneurship emerged as a desirable option for preserving the lives of those facing dire circumstances. In recent years, not only the world but also India has seen a good variety of entrepreneurial activity, with various success stories igniting the aspirations of the many aspiring businesspeople. This is due to the enormous change in economic activity.
Future Possibilities:
When they can, successful businesspeople excel in all facets of their lives.
run a business on their own
create a company and run it yourself offer answers to various problems gain reputation by speaking at numerous conferences, institutions, and channels
being sought after by clients who want your guidance on how to make their businesses profitable in a variety of industries
understand how to make money efficiently in all spheres
be their own boss and the boss of multiple businesses at once become well-known quickly both locally and globally and receive respect from others simply for existing
Be a valuable contribution to your nation.
These entrepreneurs have very promising futures because they can almost rule the entire world thanks to the abilities they received in the online MBA Entrepreneurship Distance Education. Some of these skills include
foods and drinks
Buying and importing
Social media branding and digital marketing
Effective technological industries and journalism
companies that provide solutions for the web
consulting and advisory companies
programmes available
The many teaching techniques that are freely accessible include for obtaining an MBA in Entrepreneurship through Distance Education or a Master's degree in Entrepreneurship.
MBA Entrepreneurship programme, full-time
MBA Entrepreneurship programme, part-time (3 years)
MBA Entrepreneurship distance learning programme
MBA Entrepreneurship programme online learning
Job Purpose
Employer Sectors
Companies that Mine Real Estate
Companies in the banking, retail, oil and gas, and agriculture industries. Colleges and universities.
Jobs in the Automobile Industry
Delivery Manager Assistant Manager Chief Human Resources Officer Executive/Office Assistant Senior Network Administrator Placement Coordinator System Analyst Trainee Telesales Assistant Manager
The applicants can obtain employment such as business consultants, assistant managers, accountants, finance controllers, human resource managers, and many more after completing the MBA Entrepreneurship Distance Education course.
Recruiters
Hindustan Unilever Ltd., Dell Infosys, CRISIL, AT Kearney, and Reckitt Benckiser
Reliance Wipro TCS Heidelberg Cement
Jobs in prestigious companies like IBM, Amazon, Microsoft, AT Kearney, Pricewaterhouse Coopers, etc. are available to hopefuls.
Salary
Candidates who successfully complete the MBA in Entrepreneurship Distance Education programme can expect to make between Rs 3,00,000 and Rs 5,00,000 LPA on average.
Indian Colleges Offering MBA in Entrepreneurship via Distance Learning
The list below includes some of the universities that offer MBA Entrepreneurship programmes.
Bharathiar College
College Suresh Gyan Vihar
Jagannath College
Don Bosco College International Center for Open and Distance Learning
University of Sri Padmavati Mahila Visvavidyalayam
admission process for distance learning MBA in entrepreneurship
A passing score on national or state-level entrance exams like the CAT, XAT, or CMAT can be used to get admission to the MBA Entrepreneurship programme. However, candidates must receive at least 50% of the possible points on their bachelor's degree from a recognised Indian university or institution. One must read and follow the instructions listed below in order to complete the MBA Entrepreneurship programme admissions process.
How to Apply for an MBA in Entrepreneurship
Visit the MBA Entrepreneurship University admissions page.
Candidates must register first.
then proceed to the Admission Page's Log In section.
You must use a username or email address, a password, and a captcha.
Sections that are blank but are necessary to fill up.
Check the information with your academic and personal history.
Upload any necessary papers, including diplomas and grade reports.
Pay the required fee and take the receipt.
"
"