First 20 students get 50% discount.
Hurry up!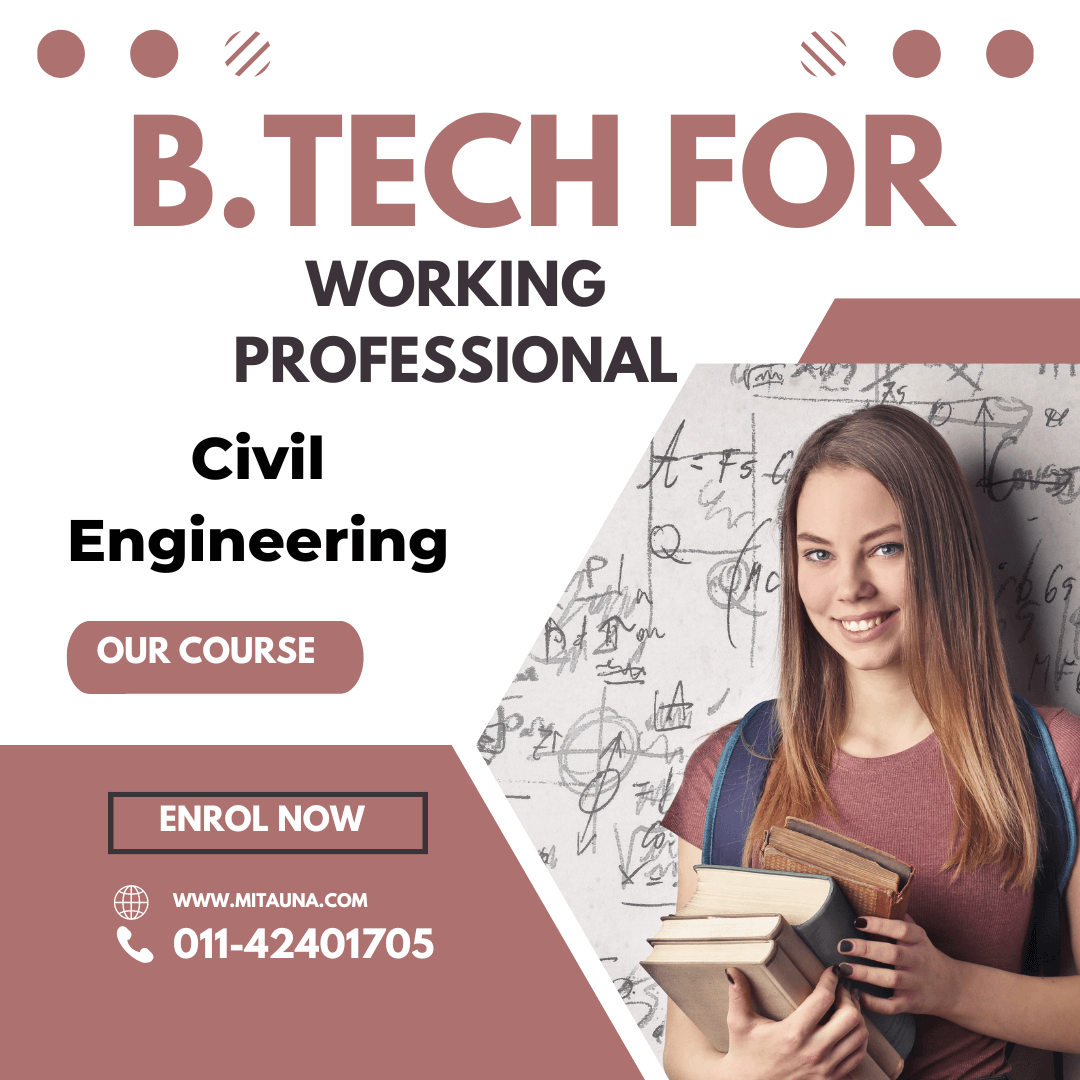 B.Tech civil engineering course is a specialized programs that seeks to prepare students with civil engineering study and related expertise so that they can develop successful jobs. B.Tech civil engineering course admission 2022–2023: This course's curriculum is set up so that participants can finish their coursework without ever enrolling in conventional mode classes. ,,""
Free Career Counseling
Browse best universities in distance education & Compare them
Academic support
Combine your distance university syllabus with skill-based courses
Adaptive Driving
Easy to understand, high-quality education taught by Industry experts
Course Overview
The B.Tech. Civil Engineering Distance Education programme lasts for four years, during which time students can improve their skills and more readily compete in the professional world.
Students who require an alternative to traditional classes can enrol in the UG-level B.Tech Civil Engineering Distance Education programme. B.Tech. Civil Engineering Distance Education includes courses in material science, structural design and management, and construction materials.
Course Bachelor of Technology in Civil Engineering
Eligibility: To be eligible for this course, a student must receive qualifying marks in their 10+2 exams that range from at least 50% to 60% on average. A B-Tech CE qualification is also preferred in some institutions.
Duration: These professional courses typically take 4 years to finish with 8 semesters each.
Fees: In practically every institute, the tuition ranges from INR 90,000 to INR 4,00,000.
University: The Prince Institute of Innovative Technology, Amity University, ICFAI, Al Falah School of Engineering & Technology, and other institutions offer this degree programme, which has been approved by the UGC.
Career-wise: After earning this degree, students can continue their studies to pursue an MTech in a related profession. Degree holders may be hired as design engineers or CAD technicians, among other positions.
Highlights of BTech Civil Engineering Distance Education
Eligibility 12th grade Duration 4 years Fees 90,000 to 40,000 approved by UGC Minimum Salary Percentage 45% offered 3.5 LPA in INR.
Application Procedure Entrance-based and merit-based.
Civil Engineering BTech Admission to Distance Education
Few universities or institutions can admit students to the distance-learning B.Tech. in civil engineering programme. The four-year distance learning programme is offered by JNTU and Lingayas Vidyapeeth. Applications for enrollment and admission in the CE programme are available beginning with the January/July sessions.
For a maximum of 6-7 years, the Bachelor of Technology in Civil Engineering curriculum is available. Candidates can be admitted to the B.Tech. Civil Engineering programme based on their performance on qualifying tests and exams taken at the university, state, or national levels.
By accessing the "Eligibility Section" of the article, applicants will get more information about their eligibility for the B.Tech. Civil Engineering Distance course.
Effectively, registration and admission fees are a requirement for admission to the B.Tech. civil engineering programme. Fees for registration or entrance exams range from 500 to 1,000 rupees. Candidates will be given the freedom to pay the entire amount in instalments, allowing students to pay the programme fee once a year.
Criteria for Eligibility for Distance Learning in BTech Civil Engineering
The minimal requirement for admission to the B.Tech. in Civil Engineering is a grade of 12 with a 50 percent or higher.
Students with a valid diploma, degree, or other equivalent credential from any Indian university recognised by the UGC are eligible to apply.
A minimum cumulative score of 50% is required for B. Tech. Civil Engineering online learning (reservation for SC/ST).
Science must be studied as one of the four core topics for the entire twelve years of schooling. Math fundamentals should also be known by the students.
BTech Civil Engineering Distance Education Duration
This course lasts for four years (4 Years). There are eight semesters in it.
Fees for BTech Civil Engineering Distance Education: There are several admission fees associated with this process. The universities post information about the fees on their websites. The average cost of tuition in the UAE and OMAN is quite low, under $1500, and the government requires some paperwork before distance learning can begin.
The course BTech Civil Engineering average fee ranges from INR 35,000 to INR 1,50,000 annually, which the students can verify.
Benefits of BTech Civil Engineering Distance Education: The most frequent query at the moment is how to complete BTech Civil Engineering distance education without understanding the benefits of civil engineers. This course provides a lot of benefits:
With a civil engineering degree, you can find high-paying employment with many different companies.
B.Tech Deeply knowledgeable, civil engineers play a significant part in the creation of infrastructure.
Through their creative designs, civil engineers significantly contribute to the moulding of the nation.
All people will benefit from civil engineers' knowledge of nature.
Distance Education BTech Civil Engineering Syllabus
Eight semesters make up the 4-year B Tech Civil Engineering curriculum. It is made up of many distinct fields that are divided into semesters and has a large syllabus. Over the course of the eight semesters, all disciplines are covered: –
1st Year
2nd Year
Semester I
Semester II
Semester III
Semester IV

Functions of Several Variables

Series and Matrices

Math. 3

Structural Analysis

Physics I

Physics II

Mechanics of Materials

Geotechnical Engg. 1

Physics Lab. 1

Engg Mechanics

Transportation Engg. I

Transportation Engg. 2

Intro to Civil Engg.

Chemistry I

Hydraulic Engg.

Environmental Engg.

Intro to Programming

Chemistry Lab.

Surveying

Science Electives (Maths/Physics/Chemistry)

Engg. Drawing

CE Materials and Construction

–

Humanities Elec. 1

Ecology and Environment

Life Skills II

Life Skills I

–
3rd Year
4th Year
Semester V
Semester VI
Semester VII
Semester VIII

Life Sciences

Basic Steel Design

Humanities Elective 3

Professional Ethics

Geotechnical Engg. 2

Construction Project Management

Water Resources Engg.

Humanities Elective 2

Basic RC Design

–

Hydraulic & Environ. Engg. Lab.

–

Construction Material Lab

–
Opportunities for Civil Engineering Distance Learning after a B.Tech.
When you are aware of the positions that are open in this field, remote learning for BTech Civil Engineering is simple.
Civil engineers

Field in charges

Designers

Site engineers and many more.
The best companies, including Schlumberger, Jones Lang LaSalle, Jacobs, Tata Consulting Engineers, and L&T, are hiring students.
Candidates become civil engineers after completing the BTech Civil Engineering Distance Education course. Civil engineers can work in a variety of sectors, including industry, transit, rail, and aviation.
Offeed salary
The average pay for students who successfully complete this BTech Civil Engineering Distance Education is between Rs 2,00,000 and Rs 5,00,000.
BTech colleges for civil engineering in India
The top BTech civil engineering institutes in India are listed here for the students to review.
IIMT Studies Bangalore

Aryabhatta Degree College, Delhi

IIMT Studies Chennai

IIMT Studies Pune

IAS Academy, Kolkata
Process for Admission to BTech Civil Engineering Distance Learning
One can proceed for admission to a distance education B.Tech civil engineering programme in both online and offline ways. The information pertaining to both types is clearly explained in this unit.
Admission to BTech Civil Engineering Online Distance Learning
Visit the webpage of the B.Tech-offering institution, college, or university.

There is a register button on the admissions section.

To register, use a valid email address and a separate mobile number.

Utilize the new account's username and password to log in.

Fill out all required fields, including those for candidate information, academics, communication, and more.

Upload the test results, diplomas, and other documents using the Documents window.

One must review the completed admission form before making a payment.

Payment for fees can be made through UPI, debit cards, online banking, and credit cards.
After submitting the form, applicants should download the receipt.
BTech Civil Engineering Offline Admission Distance Education

Visit the website for the B.Tech. Civil Engineering University.

The offline admission application form should be saved.

Fill out the form with a blue pen by writing in the block letters.

No fields should be left blank. Please mark an area as "NA" if it does not apply to you.

Include a recent, colourized passport photo with your own signature.

Do not forget to attest to the B.Tech application form and any accompanying materials.

Online payment methods for fees include credit card, debit card, wallet, UPI, net banking, and DD. A receipt for the form submission must be obtained as proof.
"