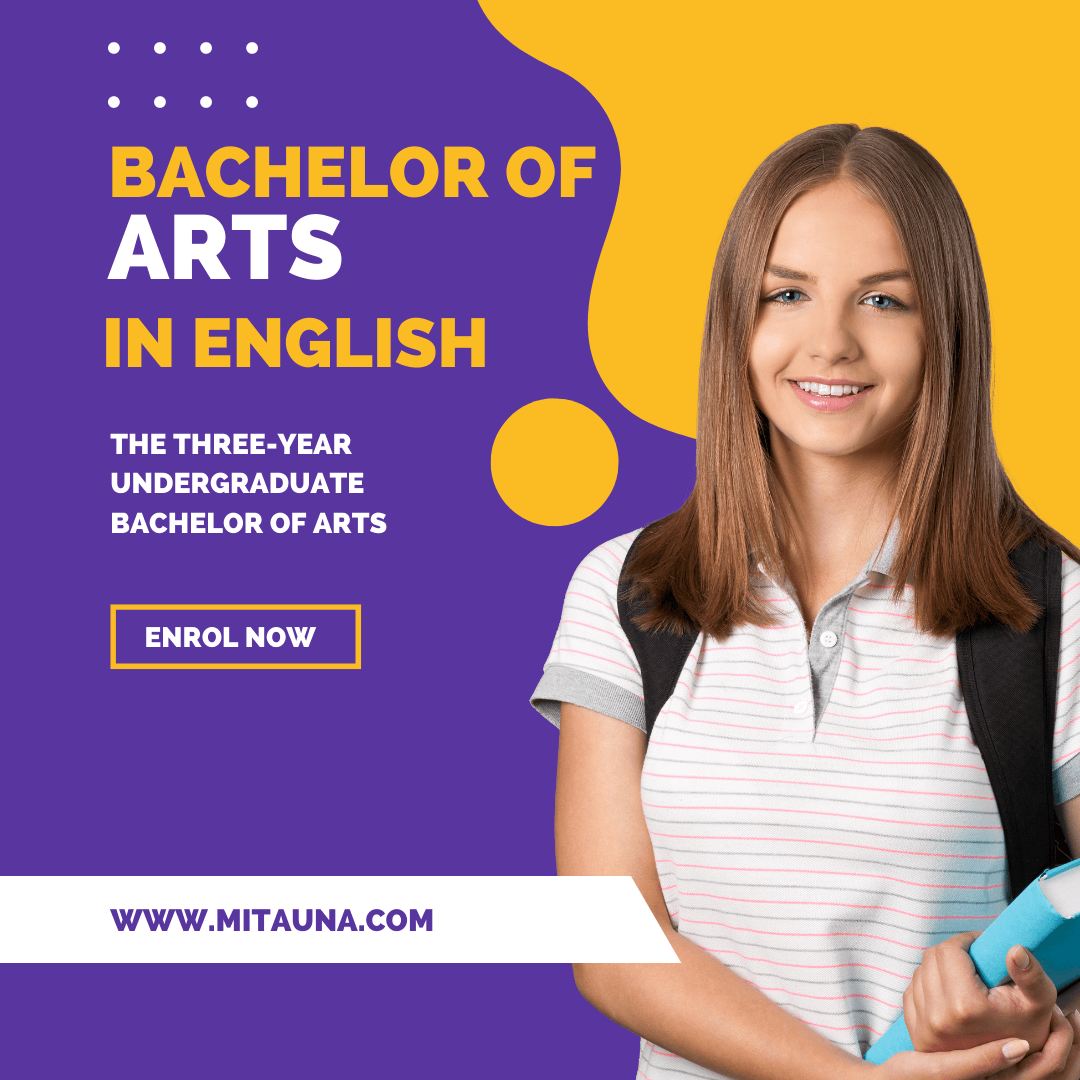 Bachelor of Arts in English is a three-year undergraduate degree program. Under the BA Distance Education in English specialisation, it covers topics such as American English literature, Modern Indian Writing, Fictional Writing, and linguistics."
Free Career Counseling
Browse best universities in distance education & Compare them
Academic support
Combine your distance university syllabus with skill-based courses
Adaptive Driving
Easy to understand, high-quality education taught by Industry experts
Course Overview
Overview
Bachelor of Arts in English is a three-year undergraduate degree program. Under the BA Distance Education in English specialisation, it covers topics such as American English literature, Modern Indian Writing, Fictional Writing, and linguistics.
English Prose, English Poetry, Professional Communication, Communicative English, and many other courses are available through BA English Distance Education. Students may be admitted to the course after completing their higher secondary education. Many job opportunities are available in India and other countries from various organizations/companies.

Eligibility: Students interested in enrolling in this program must have completed the 10+2 level of education.
Fee:— The average annual fee for a Distance BA English is INR 11000 to INR 23000.
Career Options: English trainer, translator, IELTS trainer, and other are available.
Why pursue a BA in English through distance learning?
We all know that English is the international language and that it is required for studies and jobs in other countries, and this course will help you improve your language skills.
This course takes nearly three years to complete in the online mode under the UG category, but it can be extended up to five years.
After completing this course, you will have numerous options for employment in fields such as publishing, journalism, teaching, and so on. These graduates may also work as translators.
If you choose to take this course in distance mode, you will receive the same benefits as students who take it in regular mode. Both recognising institutes, such as UGC and DEB, have granted permission to offer this course.
Admission to BA English Distance Education in 2023
The Mitauna Edutech is currently accepting applications for the BA English program for the academic year 2023-24. Students can take distance learning courses. English literature, literacy history, rhetoric, and cultural studies are the focus of this degree program. It includes studying the various stages of its development as well as its evolution in the English language throughout history. This course is available at universities and colleges throughout India.
After completing a bachelor's degree in English, you are not required to pursue a master's degree; you can study in any field after completing a bachelor's degree in English. As a result, students have more freedom in choosing their careers.
Application for BA English Distance Education
Mitauna Edutech provides its students with an online application form. Before completing the form, they must confirm their eligibility. Students from all disciplines are eligible to apply for BA English Distance Education. If any applicants are unsure about their eligibility, they can consult with counsellors. The phone number is listed above. Mitauna Edutech does not provide offline application forms. Its application form is inexpensively priced.
Eligibility Criteria for BA English Distance Education
A minimum level of education is required for admission to the distance BA English course, with English as the major subject.
Students' overall marks in the final exams of the 12th grade should be 50%.
Fees for BA English Distance Education
Distance BA English courses typically last three years. The length of a program is determined by a candidate's interest and the institute at which he or she wishes to study. In three years, there are six semesters. The fee for the Distance BA English course ranges from Rs 11,000 to Rs 23,000 per year.
Admission to BA English Distance Education
Admission to the BA English Distance Education course is usually granted based on the applicant's qualifying scores, but this can vary depending on the institution's admission structure. According to the Mitauna Edutech, we can assist you in obtaining admission to the course in the following ways:
Students who are interested should fill out the inquiry form on Mitauna Edutech's website.
Students will be able to choose the course for which they wish to be admitted.
Following the course selection, the student will receive a call from our counsellor regarding the response to the inquiry.
Our expert counsellors offer free, no-obligation counselling sessions to students in order to help them find the best solution for admission to any course.
Documentation is required.
The following documents are required at the time of admission.
5 Passport-Size Photographs.
Address Proof
10th and 12th class mark sheet
Adhar Card
Character Certificate
Provisional Certificate
Scope in BA English Distance Education
With a distance education English degree, you can pursue a variety of fascinating and exciting careers, including teaching, translating, language consulting, journalism, and publishing. In the future, there is enormous potential for distance learning. This type of education appeals to people who are already employed but want to further their education. Students who study via distance learning, also known as distance education, do so without physically being present in a classroom.
Content Writer: A candidate with a BA in English Distance Learning degree can pursue a career as an English Content Writer. The demand for such experts is growing by the day. In India, the pay scale ranges from 3 to 4 lakhs per year.
Teacher: After earning a BA in English via distance education, they can work as an English teacher in private schools. In India, the starting salary ranges from INR 2 lakh to 3.5 lakh LPA (Source: PayScale). However, if they want to work for the government, they must have a B.Ed.
Public Relations: After earning a bachelor's degree from any accredited university or institute, one can pursue a career in public relations. By managing and disseminating information, an organisation or individual can influence the public's perception of them. It is critical to understand that public relations is controlled internally, whereas publicity is controlled externally. The average salary in this field ranges from 3 LPA to 5 LPA, with the ability to increase with experience.
Distance Learning B.A. English
Distance education allows students to pursue a Bachelor of Arts in English. Many institutes provide this course online. Students can select Mitauna Edutech for a high-quality education. The institute provides BA courses via distance learning. Students regard Mitauna Edutech as one of the best distance education institutes.
BA English Distance Learning Syllabus
Semester
Subjects of study
SEM I
Language
English
British Literature I
Indian Writing in English
Background to the Study of English Literature I
SEM II
Language
English
British Literature II
Regional Indian Literature in Translation
Background to the Study of English Literature II
SEM III
Language
English
British Literature III
Modern English Language and Usage
Digital Literacy: Concepts and Skills
SEM IV
Language
English
American Literature I
Film and Literature
Indian Constitution
SEM V
American Literature II
Post Colonial Literature in English I, Australian Literature
Women's Writing
Introduction to Translation Studies
Environmental Studies
SEM VI
Contemporary Literature
Post–Colonial Literature in English II Canadian Literature
Shakespeare
World Literature in Translation
Value Education
Career Opportunities Following BA English Distance Education There are numerous job roles and areas one can pursue after completing BA English Distance Education mode: The following are some job areas and roles:
Government Departments
Coaching Centres
Translation Centres
Educational Institutes
Language Institutes
English Trainer
English Tutor
IELTS Faculty & English Trainer
English Translator
English Content Writer
Faculty Teacher
Data Entry Operator
Junior Parliamentary Reporter
Call Centre Executive
Customer Support Executive
"