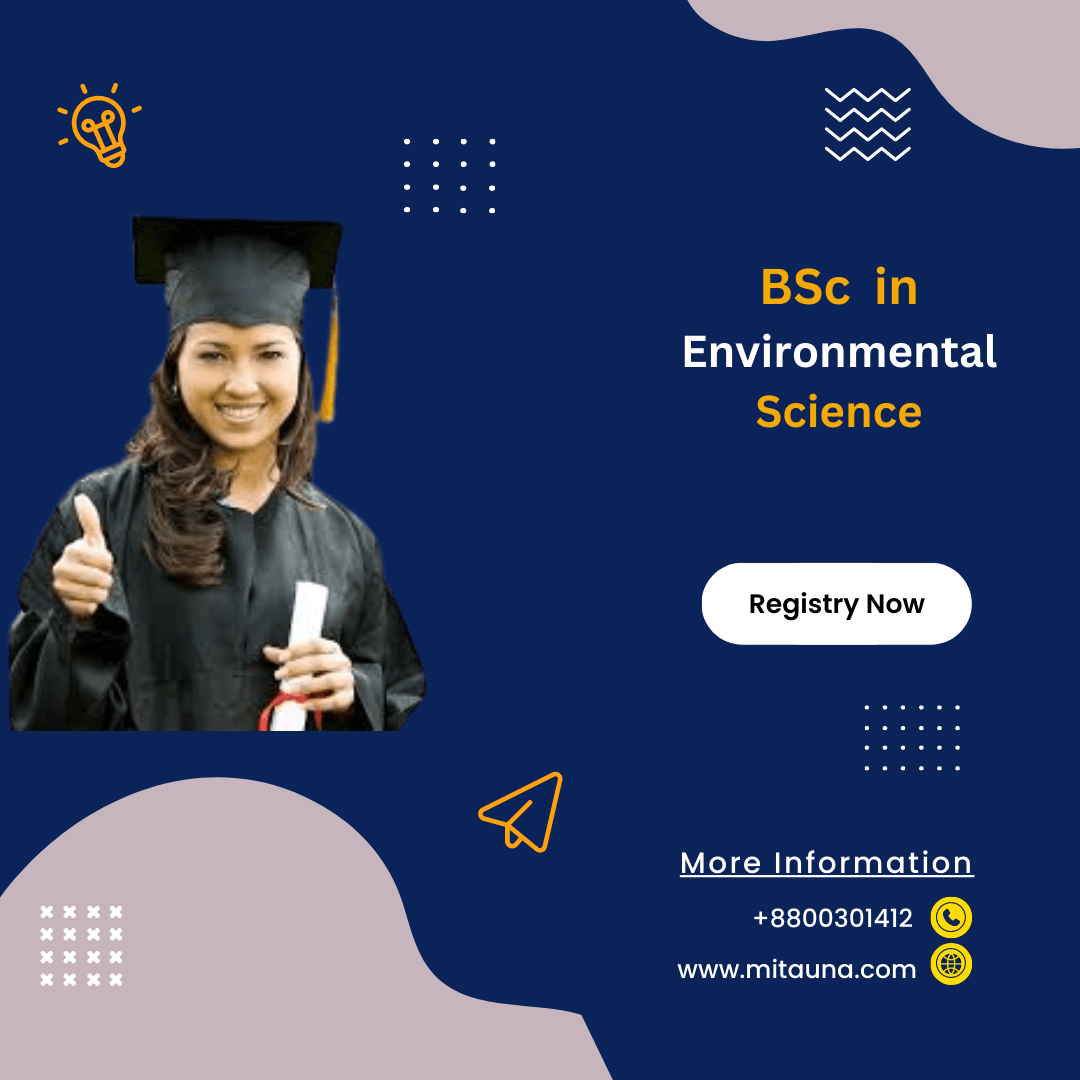 A UG course is the BSc Environmental Science Distance Education. Students who have finished their 12th grade in the scientific stream are eligible for this bachelor's program. Students who enroll in the course study about the fundamentals of the BSc course while also learning about numerous environmental science topics via online learning. The three-year format of the BSc Environmental Science Distance Education course's curriculum enables students to finish their coursework on the course's core subjects according to the guidelines and timeframes set forth. The study covers issues like environmental health, ecological sustainability, and sustainable development, among others. Students who want to enrol in the BSc Environmental Science Distance Learning program must have finished their 12th grade with a minimum grade point average of 45% from an accredited institution in order to apply. Mitauna Edutech bases its admissions procedure for this course on a merit list. Students who successfully complete their distance-learning BSc in environmental science can pursue careers as environmentalists, pollution control officers, waste management officers, etc. Numerous reputable companies, including conversation bodies, governmental sectors, environmental consultants, etc., are looking for candidates with this degree.""
Free Career Counseling
Browse best universities in distance education & Compare them
Academic support
Combine your distance university syllabus with skill-based courses
Adaptive Driving
Easy to understand, high-quality education taught by Industry experts
Course Overview
Why an Environmental Science BSc by Distance?
This bachelor's degree can also be earned through online or distance learning, both of which have grown in popularity over time, particularly across the country. There are many reasons why online and distance learning are becoming popular in India for earning a bachelor's degree.
Online BSc The field of environmental science deals specifically with the environment of the earth and its persistence. Additionally, it covers research in chemistry, earth geography, ecology, biology, and physics that addresses the world's difficulties and problems as well as the requirements for improved sustainability.
Admission to BSc in Environmental Science via Distance Learning
Fill out the form if the student needs additional information about this course. For detailed information on the course, including the cost, syllabus, subjects, and other questions, a student can get in touch with us. The online admissions process is available to students.
As an undergraduate degree, BSc offers a BSc Environmental Science Distance or a bachelor's degree in environmental sciences. After dedicating three to four years to your studies, you can get this bachelor's degree in environmental sciences, resource development for environmental health, or ecological sustainability.
Highlights of the BSc Environmental Science Distance Education
| | |
| --- | --- |
| Course Name | BSc Environmental Science |
| Duration | 3 Years |
| Admission Process | Online / Offline |
| Eligibility | 10+2 |
| Fee Structure | INR 20,550/- to INR 40,850/- per year |
| Level | Graduation |
| Approved By | UGC / DEB |
| Type | Online/Distance |
| Offered By | Mitauna Edutech |
Application for Distance Education in BSc Environmental Science
The online application must be completed by interested students who are qualified to apply for BSc Environmental Science Distance Education. Only the online version of the application is available. They must fill out the application form with the correct contact and academic information. To confirm enrollment in the bachelor's program, the admission fee must be paid.
Qualifications for BSc Environmental Science Online Education
Students who have successfully completed an HSC examination from an accredited institution in India may choose to pursue a Bachelor's Degree in Environmental Sciences (BSc Environmental Sciences), either through online learning, distance learning, or traditional standards.
The eligibility requirement is 50% in intermediate in the Science stream in almost every college.
Cost for distance learning in environmental science
A distance learning BSc in environmental science typically costs between 20,550 and 40,850 Indian rupees (INR) each year.
Distance-learning BSc in Environmental Science Programs
This is a broad field that includes topics like ecological systems, resource economics, environmental economics, sustainable development, and management of natural resources. It also encompasses environmental regulations, pollution control of the air, water, and land, as well as disaster management. Each student completes a thesis report over the course of the three years, which is required for graduation.
Syllabus for BSc Environmental Science Online Education
| | |
| --- | --- |
| Water Pollution Control | Environmental Economics |
| Disaster Management | Resource Economics |
| Environmental Planning for the Future | Ecological System |
| Natural Resources Management | Disaster Management |
| Environmental Policies | Environment and Development |
| Sustainable Development | – |
| Resource Economics | Environmental Protection Strategies |
| Ecological Resources Conservation | Research Methodology |
Environmental Science BSc Distance Learning Proficiencies
Candidates with a B.Sc. in environmental science excel in their field with the best talents because of their experience, ethical duty at work, and respect for the workplace.
The following skills are those that enable prospective employees to succeed in their positions:
Teamwork
both oral and written communication abilities
Commercial Sensitivity
An investigation-minded problem solver with innovative thinking
competent in statistics
Critical Thinking and Observational Skills
Areas of Study for a BSc in Environmental Science at Distance
Professionals who successfully complete the necessary training years and earn this degree work as:
Environmental Expert
Officer for Environmental Education
Environmental Department Manager
Officer for Nature Conservation
Officer for Recycling
Officer for Waste Management
Water Quality Expert
practicing environmental health
"