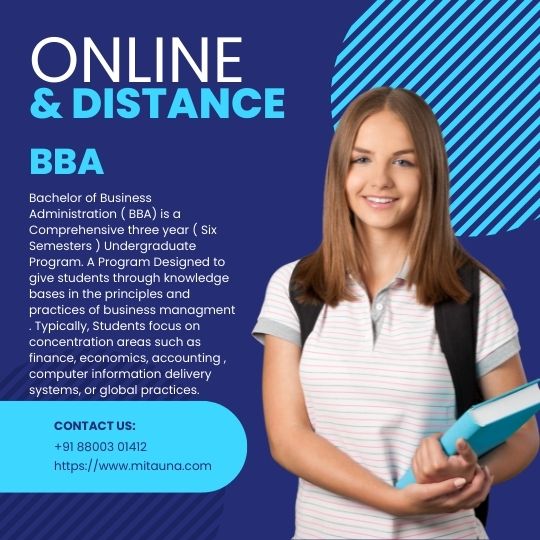 Distance/Online Bachelor of Business Administration ( BBA) is a Comprehensive 3year ( Six Semesters ) Undergraduate Program. A Program Designed to give students through knowledge bases in the principles and practices of business management. Typically, Students focus on concentration areas such as finance, economics, accounting , computer information delivery systems, or global practices. Holding a BBA gives students solid foundations in the understanding of business, as well as the critical, and strategic thinking skills necessary to take an MBA.
Free Career Counseling
Browse best universities in distance education & Compare them
Academic support
Combine your distance university syllabus with skill-based courses
Adaptive Driving
Easy to understand, high-quality education taught by Industry experts
Course Overview
The online BBA program, sometimes known as a bachelor's of business administration, is a three-year curriculum leading to a degree. For students who are working professionals or are unable to attend conventional mode classes for any other reason, distance learning is currently the most well-liked and versatile choice. How to lead and guide business tactics and strategy is one of the primary learning objectives for students.
The following subjects are also covered: Business Economics, Principles of Management, Business Mathematics & Statistics, Financial & Management Accounting, Production & Material Management, Personnel Management & Industry Relations, and Marketing Management are just a few of the topics covered in the introduction to operations research course.
For students who wish to pursue a part-time or distance learning BBA program, there are several popular alternatives to full-time BBA courses.
Admission requirements include passing marks in class 10+2 and a diploma earned after classes 10 or 12.
The cost of an Online/Distance BBA course is between INR 3,000 and 30,000.
After earning their BBA, students can enrol in a full-time or online PGDM or MBA program. After graduation, aspirants can anticipate making between INR 2 and 5 LPA depending on experience and skill.
Bachelor of Business Administration (BBA):-
Eligibility: A 10+2 degree from a reputable institution is the bare minimum requirement to be eligible. While IGNOU administers an entrance exam, BBA distant admissions are based on merit.
Duration: It lasts three years in practically all universities.
Cost: The average cost of a online BBA course ranges from INR 3000 to INR 30000.
University: There are many public and private colleges in India that grant BBA distance education degrees. The UPRTOU Allahabad, TNOU, JMI, IGNOU, etc. all provide the UGC-approved BBA remote learning program.
After completing a BBA, students have the option of pursuing an MBA or PGDM. With experience and expertise, one can transition to the professional area and earn between INR 2 and INR 5 in addition to the study field.
BBA Distance Education Admission Highlights
| | |
| --- | --- |
| BBA full form | Bachelor of Business Administration |
| Eligibility | 12th |
| Duration | 3 Years |
| Number of Semesters | 6 |
| Mode of Education | Online/ Distance |
| Fees | INR 20350/Y |
| Approved By | UGC and DEB |
BBA Distance Education Requirements 2022:-
For admission, the applicant must have received at least a 50% grade in the 12th grade.
After this course, the BBA, candidates might continue their education by enrolling in the MBA program.
The minimum required mark for a bachelor's degree for SC/ST is 45%.
The applicant must be between the ages of 18 and 24.
Candidates who took the 12th-grade final exams are also qualified to enrol in the course.
Duration
This course typically lasts three years. There are six semesters in it.
This course can be taken for a maximum of six years.
Business organisation and systems, management theory and practise, fundamental business statistics, marketing management, communication skills, entrepreneurship, international business, new trends, as well as financial management tools are some of the specialisations covered by the BBA distance education program.
Documents Required:-
The list of required documents for applicants seeking admission to the BBA program is provided below.
12th-grade transcript and certificate
10th-grade transcript and certificate
Online & Distance BBA