First 20 students get 50% discount.
Hurry up!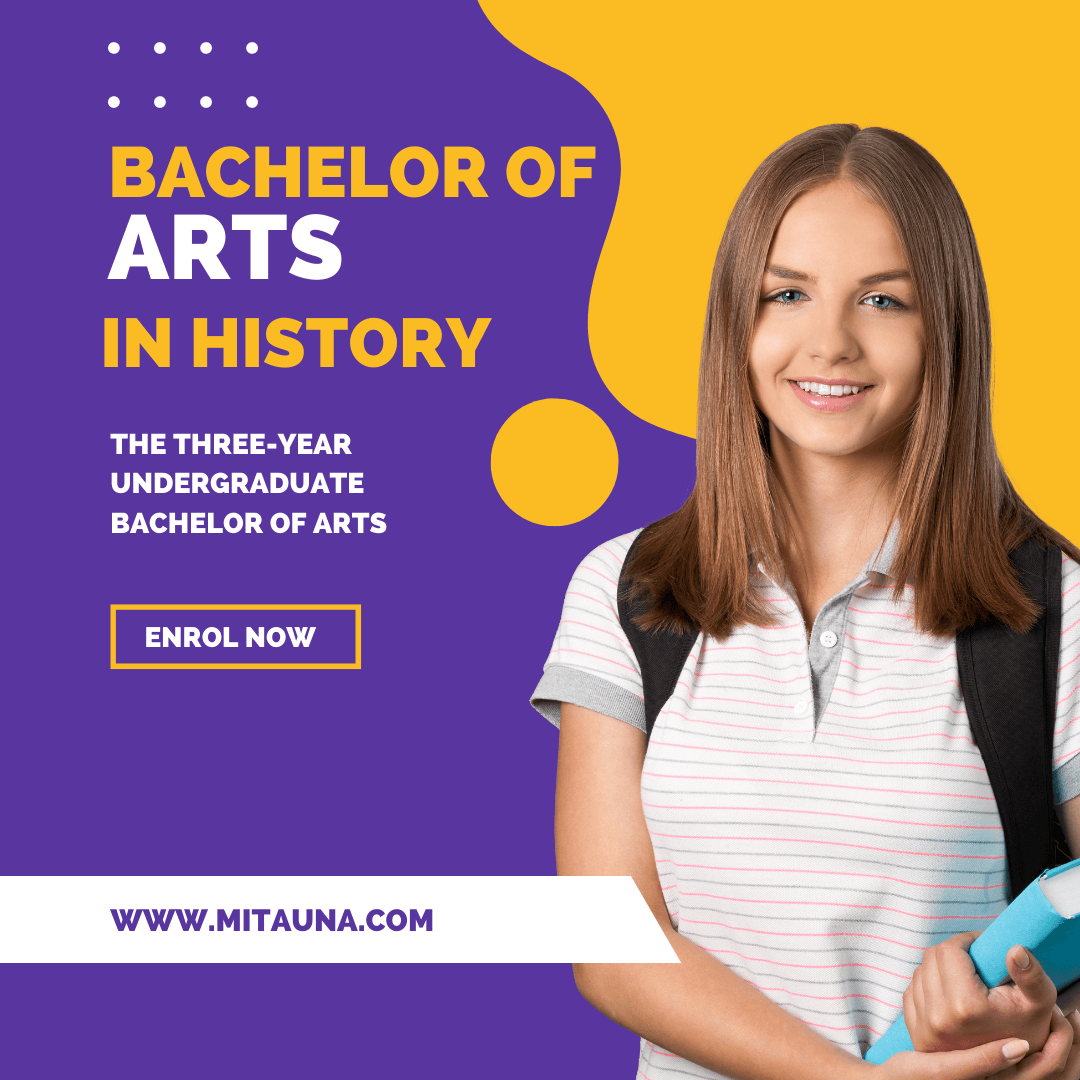 BA History is a course in which students learn about historical events, the evolution of history over time, various historic civilizations, various Indian dynasties, and so on. It also includes learning about historical sites and conducting surveys to learn more about the past."
Free Career Counseling
Browse best universities in distance education & Compare them
Academic support
Combine your distance university syllabus with skill-based courses
Adaptive Driving
Easy to understand, high-quality education taught by Industry experts
Course Overview
Overview
BA History is a course in which students learn about historical events, the evolution of history over time, various historic civilizations, various Indian dynasties, and so on. It also includes learning about historical sites and conducting surveys to learn more about the past.
Because of the numerous benefits and advantages offered by this course, candidates who have completed the 12th standard are more likely to pursue it. It is best suited for candidates who want to work in the field of history. Students specialising in archival studies, museology, archaeology, and related fields can also take this course.
Eligibility: Students are admitted to distance colleges based on merit, which requires at least 50% average marks in the 10+2 qualification. The admission test is not used to determine this criterion.
Duration: A three-year time span is required to learn about the BA History course; during this time, there will be examinations at the end of each semester, for a total of six semesters.
Fee: Its tuition fee will range between INR 8000 and INR 25000.
Career-wise: This distance degree holder's career prospects are as promising as those of regular degree holders. Students can pursue their MA degree while also working as teachers, historians, or archaeologists. The salary ranges from INR 3-9 LPA.
Admission to BA History Distance Education in 2023
Students who are interested in the university's preferred program can apply online. They must first log on to the university's official website and register. They can then fill out the application form online. They must print and submit the completed application form, along with the required documents and application fee, to the main university campus.
BA History Distance Education makes obtaining a bachelor of arts degree in India, as well as Dubai, Oman, and Kuwait, more convenient. Thus, history courses teach the analysis, writing, and analytical skills required for successful careers. Graduates with a history degree typically become educators themselves, teaching in elementary, secondary, and post-secondary institutions.
BA History Distance Education Benefits
Students who take this course will gain analytical strength and the ability to analyse and prioritise information. All of these abilities will aid in making sound decisions.
Most students in India now prefer to study this course via distance and online mode because it takes almost the same amount of time as regular courses (3 years).
This field is highly career-oriented, and those who pursue it will have opportunities to work as Historians, Archivists, Archaeologists, Teachers, Auctioneers, and so on.
This course has no entrance requirements, and students are admitted directly into this distance and online course.
The distance BA History course is approved by DEB and UGC and has the same value as regular programs.
Eligibility Criteria for BA History Distance Education
To enrol in this distance program, you must have completed a 12th-grade qualification from a recognised institute.
Subjects previously studied must be passed with a minimum and average score of 50%.
There are no entrance exams or interviews required for admission.
Admission Procedure for BA History Distance Education
Students can complete the applications by following the steps outlined below.
You must access the Mitauna Edutech website.
If you encounter any problems or errors while filling out the form, you can contact a Mitauna counsellor.
You will be provided with a link to submit a direct fee submission in this manner.
After you pay the fee, it will register you automatically.
Mitauna will notify you with a confirmation email.
Distance Education Fees for a BA in History
Everyone can earn their BA in History through distance learning at a reasonable cost. It is less expensive as a distance mode than the regular mode. Other fees, in addition to tuition, will be assessed at the time of admission. Fees for both types of education vary widely at universities, while off-campus education (distance and online) typically ranges from (INR 8000 to INR 25000) per year.
Is the BA History Distance Education a legitimate course?
BA History Distance Education is a legitimate course because students can take it independently and attend online classes whenever they want. They can also search for an in-depth understanding of the subject online or watch videos until they understand it. A BA in History via distance education is appropriate because it requires more theoretical understanding than practical knowledge.
You must educate yourself on historical events, people, and conflicts. You will need to read a variety of books and research papers to accomplish this. History is more about reading and learning about India's and the world's past. On the internet, one can find a comprehensive overview of the subject.
What are the advantages of BA History Distance Learning?
The main benefits of a distance bachelor's degree in history are that it is as convenient and informative online as it is in person. It is:
Learning online for a bachelor of arts degree in History Distance Education can save a lot of time because classes can be taken whenever you want.
Online classes are ideal for working professionals because they do not need to take eight hours of class every day while taking a break from work. Working professionals can complete the BA in History Distance Education online without taking time away from their jobs.
Online courses are the best way for students who are looking for government jobs to continue preparing for competitive examinations, and a BA in History Distance Education Course can be completed while doing so.
BA of History Distance Education also assists students in exam preparation; the syllabus for competitive exams and distance education are complementary.
Online classes are very convenient and flexible because they can be attended without interruption, and they are also less expensive. Distance education for a BA in History is generally inexpensive.
Benefits of Distance Education for a BA in History
Students who enrol in this course can complete their education without ever attending a regular mode of instruction.
The average fee that an applicant must pay to pursue this course is lower than the regular mode.
This course is open to applicants of any background, working or unemployed.
Because there are no time constraints for pursuing this course, students can study according to their schedule.
What differentiates BA History Distance Education?
Healthy interaction with students and networking opportunities
Various virtual specialist assistance.
Provide video content to our students in accordance with university policies.
Students benefit from a unified curriculum.
Excellent customer service.
Residency opportunities are scarce.
Also provide an e-library, study materials, and support.
With a mobile support system, you can eliminate complaints.
Depending on the university's policies, online specialist classes and Doubt Clearance Sessions are available.
Distance Education after a BA in History
Students should choose the BA in History Distance Education for the key information relevant to the subject if they want to build a successful career in the course. While looking at the course and the competition, it develops the necessary skills in students to find the right career path. Students who want to work as historians or archaeologists can also enrol in this course.
After completing the BA History Distance Education course, students can apply to various organisations such as the archaeology department, historical parks, research centres, museums, restoration, and so on. An applicant can expect to earn between INR 2.55 LPA and INR 5.65 LPA after passing this course.
Distance Education Required Skills for a BA in History
People interested in careers in education or design will benefit from the BA History program. It also opens up a wide range of job opportunities for those interested in art and history. Some of the skills required of BA History graduates are as follows:
Aptitude
Creativity
Numeracy
Time management
Analytical Capabilities
Communication abilities
Job Areas
Journalism
Research Centres
Radio Channels
Survey Offices
Preservation Departments
UPSC Jobs
Historical Parks
Archaeology & Archives
Museums
Journalism
After earning a BA in History via distance education, one can pursue a career in journalism. It is a growing field of employment. Students with strong abilities in exploration, research, writing, great vision, communication skills, and so on can work for media and news television shows. They can work in both the public and private sectors.
"