First 20 students get 50% discount.
Hurry up!
Blogs Detail
CAREER OPPORTUNITIES IN THE EXPANDING AVIATION INDUSTRY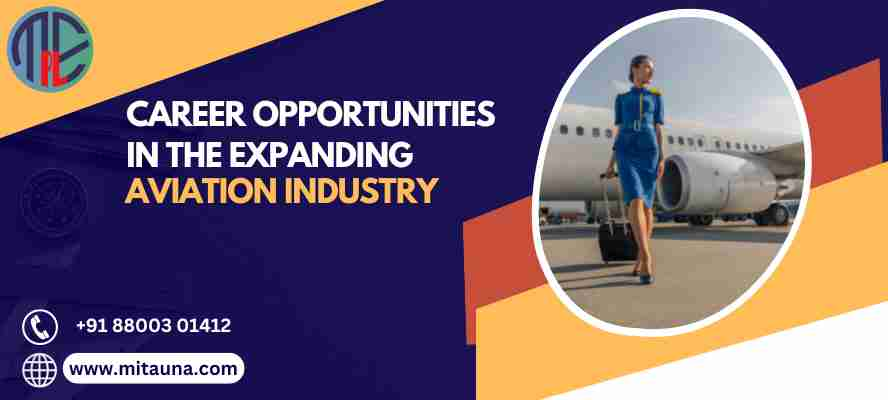 Throughout history, aviation has been one of the world's most successful and in-demand industries. The aviation sector required more labour and technology as time passed.
Throughout history, aviation has been one of the world's most successful and in-demand industries. The aviation sector required more labour and technology as time passed. As a result, by the end of the twentieth century, nearly all aircraft firms were looking for specialists who could manage their numerous aviation occupations smoothly, resulting in the creation of more work opportunities. Speaking of which, there are numerous aviation schools available. There are several prospects for young, ambitious individuals seeking a successful career in the aviation business. From cabin crew to ground crew, piloting to ticketing, the options are endless. However, in order for one's job to take off, they must attend a professional course as well as other certifications as needed. Those who want to work in the aviation business should choose a degree of study that matches their interests and abilities. There is no doubt that a qualified individual will have a successful career ahead of them.
In that vein, these are some of the job pathways available in the aviation industry:
Pilot: As we all know, becoming a pilot is one of the most sought-after careers in the aviation sector. It is also without a doubt the most glamorous and gratifying. Professionals in this job must go through extensive training to learn how to pilot an aircraft safely. If you are a graduate and wish to work as an airline pilot, you must first complete your state's licencing criteria and work toward earning a particular number of flight hours to improve your career. GMRAA provides Commercial Pilot License training for 12th grade students who have completed Physics, Chemistry, and Mathematics. The training requires 18 to 24 months of study as well as 200 to 300 hours of flight time to perform aeroplane repair. Following completion, you will obtain a licence and will be able to specialise in type rating.
Cabin crew: Completing the introductory cabin crew training is the first step in seeking a career as a flight attendant. Crew members must be physically and psychologically healthy because they will spend the majority of their working hours in the aircraft. They should be able to multitask in addition to providing exceptional customer service. This training equips every flight attendant with the necessary knowledge and skills. The GMR Aviation Academy's airline cabin crew course covers topics such as passenger handling and safety, including the safety of aircraft equipment and emergency procedures, security elements in aviation, smoke and fire fighting, first aid, and more.
Ground crew: As a member of the ground staff, you are responsible for providing passengers with accurate information, as well as supporting them with reservations, ticketing, luggage collection, seat assignment, customer service, and so on. A dedicated ground staff worker must have strong interpersonal skills, excellent customer service abilities, and the ability to multitask while giving passengers with weather forecasts, late arrivals and late departures, and assisting them with any problems they may have. Undergraduates can also take the course to work in this department.
Air hostesses: Air hostesses have prestigious job and can live lavish lives. Their responsibilities, though, are just as great. They must present a professional image, be well-behaved, and keep a professional attitude. Because they are typically seen as the face of an airline, their customer service abilities must be of the greatest standard. Their duties include verifying pre- and post-flight records, advising clients with seat selection, welcome passengers on board, and offering safety instructions. An air hostess is well compensated, respected, and has the option of working in various industries after retiring from the aviation industry.
Customer Service Associate: Many divisions in the aviation business demand someone with strong communication and customer service skills. This job path, as the name implies, requires the same amount of attention and commitment. A customer service associate must be fluent in all areas, from the techniques required to deliver outstanding customer care to the ability to provide support in both support centre and call centre environments. If you think you have what it takes to be a customer service associate, GMRAA's Customer Service Associate (CSA) program is for you. This will give you a better understanding of customer service as well as a practical knowledge of the department's numerous sub-disciplines.
India is building 100 new airports, while all existing major airports are being expanded. Because aviation is a labor-intensive industry, there are numerous opportunities in the sector, including airports, airlines, ground handlers, retail, fire & safety, cargo, IT, MRO, Catering, Hospitality, and so on. As a result, if you are interested in working in this area, there is no better time than now.
Aute irure dolor in reprehenderit
Occaecat cupidatat non proident sunt in culpa
Pariatur enim ipsam.