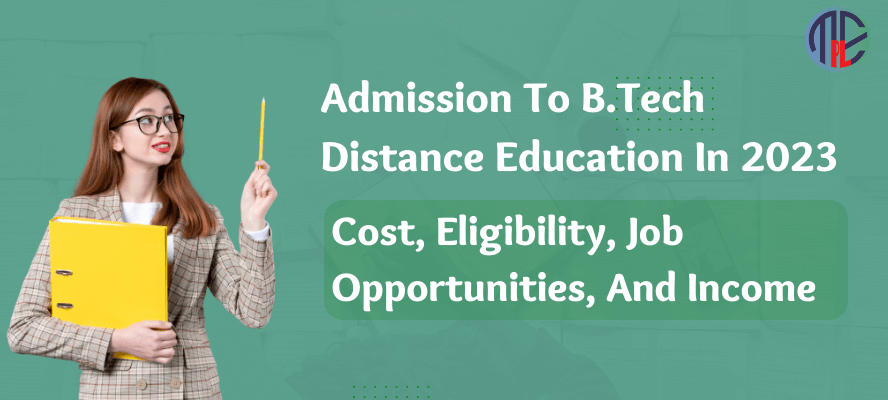 Admission to B.Tech Distance Education in 2023: Cost, Eligibility, Job Opportunities, and Income
The four-year course is an engineering undergraduate program. B.Tech students acquire in-depth knowledge and real-world experience through projects, coursework, internships, etc. Engineering degrees in mechanical, civil, computer, information technology, electronics, and communications are offered online. The four-year B.Tech professional degree program is intended for students who desire to advance their technical knowledge in a related area of specialty. The majority of universities give B.Tech in normal format, although some also offer this course online. Most people who choose this form of education are either employed or unable to afford conventional classes. Students can complete their B.Tech degree through distance study at their own speed. The eligibility requirements will not change from those for a regular course. One must have finished their 10+2 in science with a reputable board (PCM) in order to enroll. Merit-based or entrance exam results will be taken into consideration for admission to this course.
B.Tech Distance Education Admission 2023 :A four-year technical curriculum combining technology and innovation themes is called the Bachelor of Technology. Students in this degree have the option of selecting a specialisation based on their interests.
Classes are held on weekends so that working professionals can continue their education without having to quit their employment in the remote learning version of the programme, which allows students to select their university and study at their own pace.
B.Tech Distance Education Requirements
Candidates may apply for entry into BTech if they have a current certificate of passing their 12th grade or any equivalent degree from any university recognised by NAAC with a minimum of 52% marks.

After this course, candidates might pursue MTech degrees in pertinent subjects.

After finishing higher secondary scientific courses in physics, chemistry, and mathematics, candidates can apply for BTech distant education.
Job Opportunity in BTech Distance Education
Researchers

Managers

Engineers

Consultants
Salary After BTech Distance Education
The average salary varies according to the post, though it begins with INR 6-7 LPA